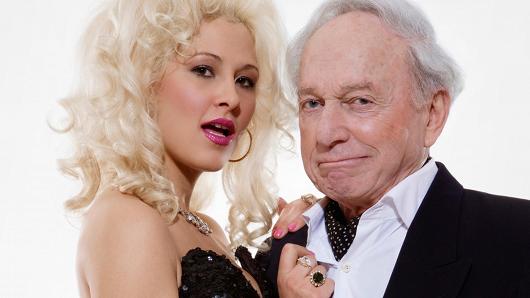 In general, the economy sucks: The jobs market is flat, the stock market [at this writing] is down over 400 points [ended the day down 276…thank God!], all major global economies are on thin ice, terrorism continues to rage, and, all the while, the old dude in the above caption couldn't care less. 
No wonder people are pissed off.
There are a select few men who live in the socioeconomic stratosphere, an invisible force field that renders them impervious to the vagaries of mortal life on earth. It is here that they are able to pick from an infinite line-up of beautiful young woman trying to gain access to the same invisible force field. 
While no one is truly impervious, being well fortified is plenty.
www.telegraph.co.uk/men/relationships/11695827/Why-does-everyone-hate-it-when-rich-old-men-date-young-attractive-women.html
HARD COLD TRUTH
When you have enough money, nothing hobbles your lifestyle. Think $50,000,000 and above and it's all an abstraction. At that amount, $10 million here or there is irrelevant. Start with a quarter of that amount and suddenly everything becomes a much bigger deal. Catch my drift? Ad to this the fact that beautiful young women are not driven by physical beauty as much as physical money, this begins to make sense.  
In the above article, Duncan Bannatyne, 66, is 534th on the Sunday Times Rich list with an estimated net worth of $257,000,000.
His stunning young girlfriend, Nigora Whitehorn, 35, is from Uzbekistan and works as a dental treatment coordinator and has no discernible net worth.
So it all balances out as you can see.
What the take away from these and stories like it?
RICH GUYS STILL GET THE GIRLS.
Money first, love second.
Better yet, object first, human second.
Feminists are pissed off because women who marry into wealth are perceived to be prostituting themselves and somehow betraying those women who choose to tough it out in the workplace.
Young men rant about it because they loath swallowing the fact fact that their good looks and youth had been trumped by Bannatyne's wealth and charisma.
According to one one rich guy, "At heart, we're all still cavemen. The men want the biggest cave at the top of the hill and the women want to feel safe living in that cave at the top of the hill. The guy with the biggest cave will always get the girl." 
Yes this sucks.
But if you had that cave you wouldn't be complaining.
Go ahead and hate on.
They don't care a wit because they don't have to…
Note:
According to a recent US News and World report article, there were 211,235 ultra-wealthy individuals in 2014, a 6 percent increase from a year before. That community's combined wealth is believed to have fallen just short of $30 trillion, a 7 percent increase from 2013.
Growth in 2014 is slightly above average in terms of longer-term trends in the ultra-wealthy community. Over the past 20 year period, the group's population has grown at an average annual rate of 4.6 percent, with wealth growing an estimated 6.7 percent each year.
This growth trend is expected to continue at least until 2040, at which time both the size of the ultra-wealthy population and their net worth "will have approximately trebled" to more than half a million individuals worth a combined $88 trillion, according to the report. The fastest growing wealth tiers are billionaires and those the report classifies as "at the bottom" — people whose worth is $30 million to $50 million. 
…and don't for one second think the ladies aren't paying attention. At my health club, they've been thrown out of the parking lot for grabbing license plate numbers and running them on financial databases.