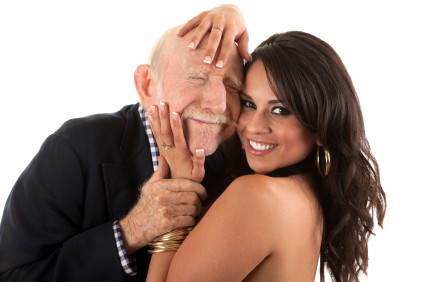 "Hell yes, I'm down. No money. Psychiatric problems I can't even pronounce. No job prospects. One foot in the gutter. So yea, that old man looks damn good at this point. What other choice do I have? It's hell out here and I'm not getting any younger…"
…………..
After a certain point, relationships tend to be more about conscious asset balancing. This is not cynicism. It's just another door to love, rather than the one we used when we were in our twenties.
Thus, when people see young women in the company of much older men, they see a very specific equation. But there's often a lot more to it.
For example, let's say an affluent man of 65 begins to see a woman of 35.
He may be in excellent physical health while she's one foot under a bridge.
Men her age aren't interested in her because she's fallen through the cracks, in spite of a lingering beauty, unmistakable from days gone by.
Such men easily find others their own age who are successful attorneys, doctors, engineers and other gainfully employed professionals without the physical and psychiatric disabilities.
So she makes a conscious decision to do something about it by leveraging what she does have [youth and lingering beauty] against everything she doesn't [the list is endless], and comes up with a man 30 years her senior willing to take her on in exchange for companionship and the prospect of real love.
He's old and successful, she's relatively young and broken, but with the proper care and financial resources he can rebuild a broken soul while satisfying his own needs at the same time.
She gets elaborate shelter, a constant resupply of meds, funds for medical check-ups, plastic surgery, fillers, Botox, travel and a closet full of designer clothing.
What's not to love?
Over time she reemerges as someone else, a better her, the one she left behind a decade ago now on top of the human food chain.
And while she did, in fact, "sacrifice" years [Read: work], her efforts paid off handsomely.
Now you know why so many young women are in the company of rich older men, and why money is only part of the equation.